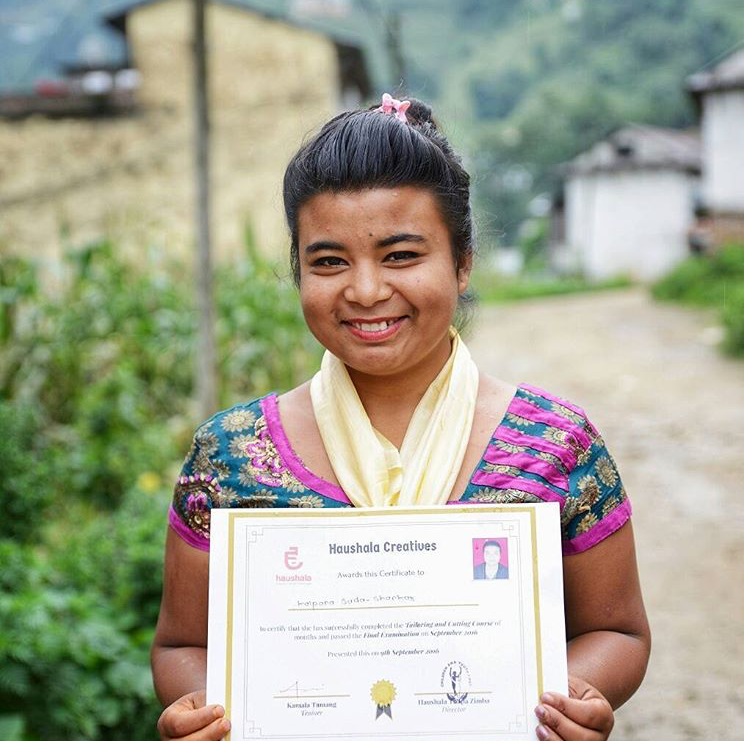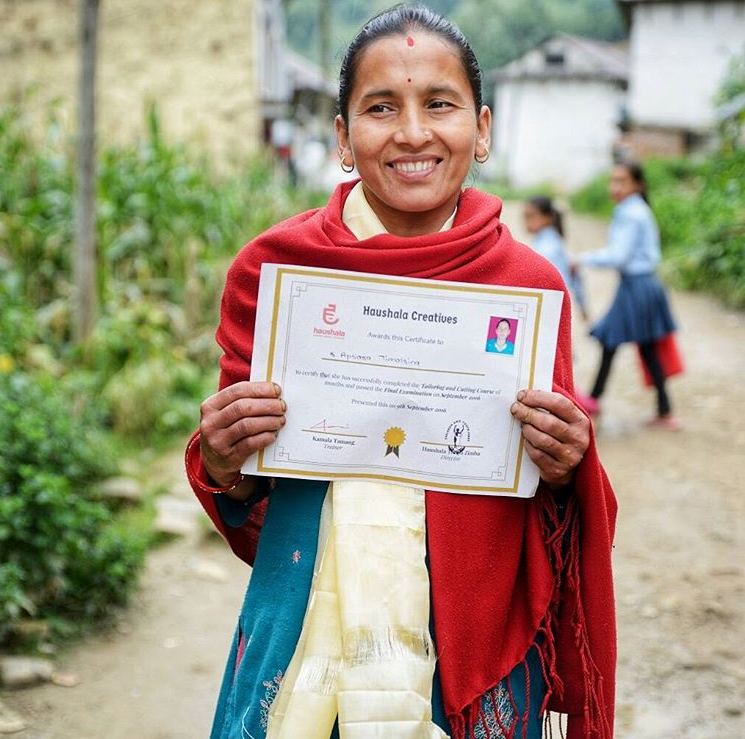 In 2013, in the urban periphery of Kathmandu, Haushala Thapa teamed up with her mother Rupa and sister Samanata to create a unique women's cooperative. As the Founder-Director of the local NGO Children and Youth First, running a boarding school for disadvantaged kids and teens, Haushala sought a way to sustainably support the school while providing opportunities for the students' mothers.
These mothers were battling the societal barriers that come with poverty, socioeconomic marginalisation, and gender inequality. They were also doing everything they could to provide their child with an education and better future. They wanted to play an active role in supporting their child's schooling, and to provide that opportunity sustainably for more children going forward.
From this dedication, the Haushala Cooperative was born. With its namesake being the Nepali word for encouragement, the cooperative set out to encourage women to build social and economic independence together. First based out of a small workspace on the founding family's rooftop, the cooperative began offering free knitting and sewing trainings to all women who were interested in learning a new skill, accessing a safe haven, and building a better tomorrow. Today, we have moved to a larger workspace and have begun opening rural hubs across Kathmandu Valley.
Through gaining skills and producing handmade products, Haushala enables women to live an independent life. Haushala not only provides economic support to women in Nepal, but it also provides them with a supportive community of women with whom they can share their stories, laughter, and woes.
The women who come to Haushala garner their confidence to move ahead in life. A few years ago, 22-year-old Jamuna Thapa Magar had to quit her studies and work for her family due to their lacking financial condition. She began going to Haushala every day to learn more, looking forward to making her future better. Jamuna said, "I have experienced lots of changes in my family since I joined Haushala. Initially, my skills were only limited to a few knits. But after coming here I can even knit sweaters." Being able to learn more at Haushala has made Jamuna feel glad and successful.
Monica Lama, who is originally from Hetauda, moved to Kathmandu with her family looking for better opportunities. Initially, she faced hardships, but joining Haushala helped her begin to overcome these. Monica said, "We were falling short of household expenses. My father worked hard, and I wanted to support him." Five months later, the training she received from Haushala allowed her to contribute to her household expenses and earn an income in a friendly and supportive environment. Monica added, "Initially, I used to get anxious thinking about the trouble back home. But here, I am making new friends and learning skills which help me overlook my troubles."
Pammi Thapa, a trainer at Haushala, appreciates the atmosphere at Haushala. All of the women respect her and are constantly eager to learn. She says, "I have seen respite among the ladies here. They have been utilizing their time in learning better things in life. They are making enough money to look after their household expenses and provide proper food to their kids." While most money they earn enables them to pay their expenses, Haushala provides these women with greater economic flexibility as a whole. Pammi added, "Sometimes they come and tell me that they were able to take gifts while visiting their maternal family!"
Poverty is a multidimensional setback. However, Haushala has shown that the effects of poverty can be reduced when there is social support, hard work, and strong determination. Monica said, "We work hard to knit these products. If our products are bought, it will be the biggest support for us." Jamuna reiterated that purchasing these products would benefit each individual worker and the organisation as a whole: "If the organisation receives support, it's equivalent to us being supported. It will help women like us to improve our financial situation."
Despite the challenging stories that the Haushala artisans share, Haushala has given them the opportunity to overcome some of life's obstacles. Every day when they enter the workshop, they are willing and able to improve their economic situation. Most importantly, Haushala, gives women "a family outside their families" and a relatable group of other women with whom they can be themselves, share experiences, and grow.
When you shop Haushala's online store, 50% of all profits return to the female artisans, and the women donate the other 50% to sustainably support the education of underprivileged children at Life Vision Academy. 100% makes a difference. All items are handcrafted and ethically-made in Nepal, with locally-sourced materials and vegan leather.